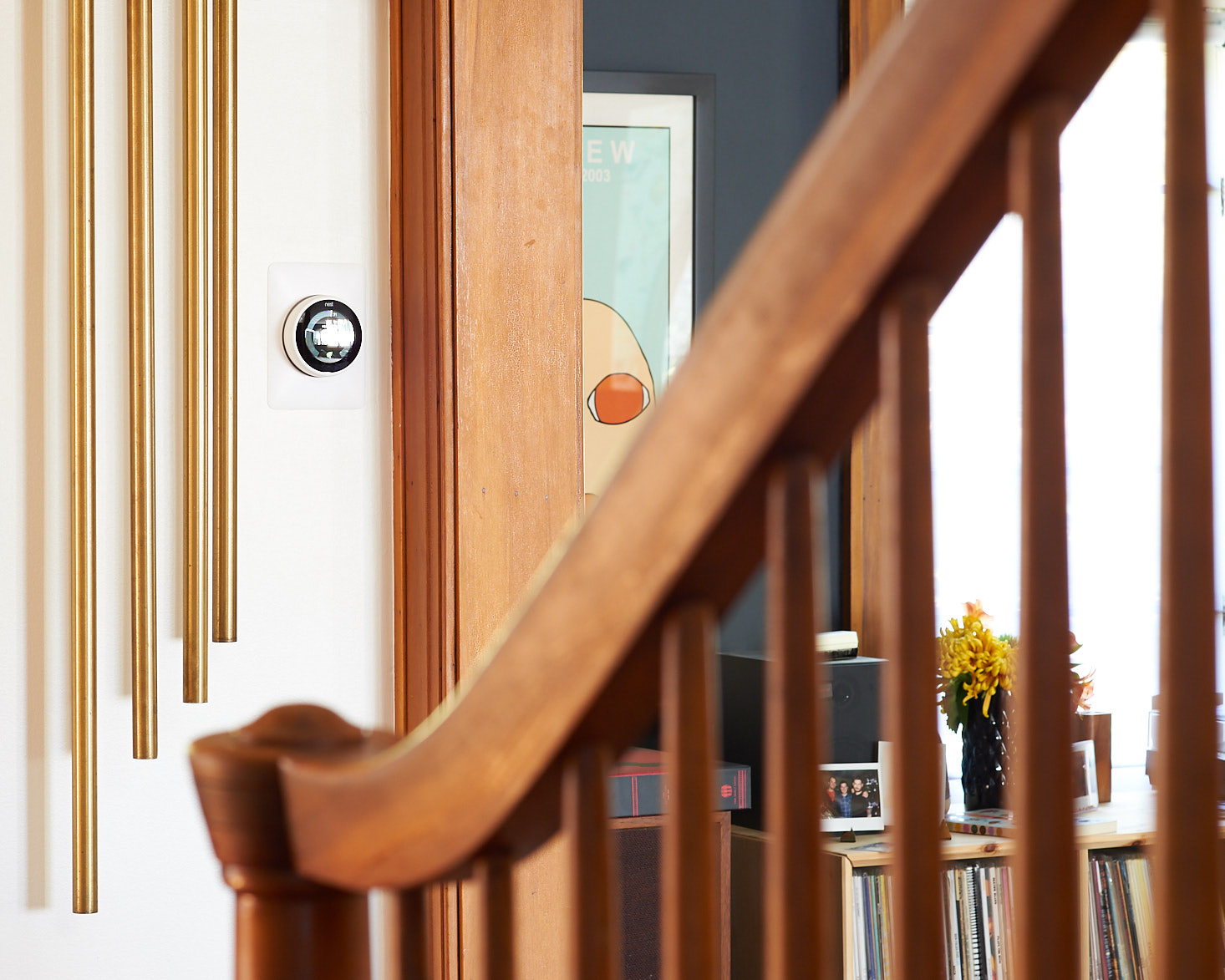 [Our Nest Thermostat sits pretty in our entryway]
My style walks a line somewhere between modern minimal and traditional. I love clean lines and new technology but I also have such a fondness for old things and craftsmanship. It can seem tricky to mix modern technology in an old home, but there are a lot of well-designed gadgets out there that are pretty nice to look at can fit right into a well-designed home.
I've gathered up a few items that we use and love plus some that that are on my wishlist.
[ Nest Protect | Samsung The Frame TV | Ring Video Doorbell | Sonos Play:1 |
Nest Thermostat | Aura + Jonathan Adler ]
When we moved into our house, the rooms had fairly new smoke detectors (the cheapest available) and some very old looking carbon monoxide detectors. We couldn't tell when they were installed and to be safe, wanted to update and upgrade. We've been switching out our old detectors with new Nest Protects every few months. They talk to our phones, let us know if any smoke or carbon monoxide is detected, and check their own battery levels. A nice bonus feature is that they can act like a nightlight by detecting motion and lighting up a pathway, perfect if you stumble around in the dark like me.
The Samsung The Frame TV is on my never-gonna-happen-we-just-bought-a-new-tv list. There are lots of clever ways to disguise a TV or make it blend into a gallery wall, but this is the most stunning option I've seen. When it's not playing your fav shows, it displays artwork with a realistic looking mat. Plus, you can pick up thin wooden frames to add a traditional framed art look.
My favorite piece of tech we've bought for the house is our Ring Doorbell. It detects motion in front of our house and sends notifications to our phones. We know when our mail is delivered, when FedEx shows up, when the DHL guy looks through our stack of packages, and when deer stop by to snack on our flowers. We can see and talk to anyone who rings the bell and let them know we're too busy to answer the door or to leave packages without a signature. This has truly made me feel safe in our home. Plus, the matte black cover looks sleek against our home's brick exterior and it works with our old hanging chimes in our entryway.
Sonos is one of those things we thought was neat but that we didn't really need. We started using them at work and it wasn't long before we picked one up for ourselves. We use ours in the kitchen and Andy listens to his favorite podcasts while he makes us coffee in the morning and washes dishes at night. The speakers come in white or black (we chose white) which will work with any space, light or dark.
Paired with our Nest Protect we have two Nest Thermostats. Our heat is gas and our A/C is electric so we have installed one for each. It is so nice to have it on a schedule so that our house is set to the perfect temperature when we're home, but not when we're away. The thermostats work with the Nest app which does a million things but I enjoy being able to crank the heat up a few degrees without having to wiggle out from under my blankets.
Aura is a digital photo display styled like a traditional picture frame. They recently partnered with Jonathan Adler for an exclusive rich navy blue design with gold trim. This touch of Alder glam would look stunning in a traditional home with moody tones and paneled walls. It syncs with your phone to update the frame with your most recent pictures, recognizing the people you take photos of most and even filtering out your nudes. Technology!
What am I missing? What technology are you using in your home that you can't live without?
This post may contain affiliate links. All opinions on these products are my own.